News
» Tricktionary App Review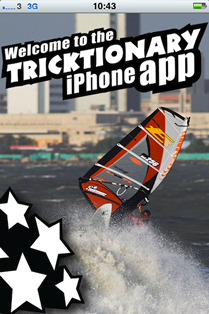 If you windsurf and own an iPhone, downloading the Tricktionary app is a must!

The Tricktionary book is a comprehensive guide to windsurfing moves and techniques for windsurfers of all abilities. The app builds upon the book content and provides a pocket guide to a huge range of windsurfing moves split into four categories – Beginner, Non-Jumping, Jumping and Wave. These categories are then split into sub-categories, for example, within Jumping you have Jumps, Switch and Extreme.



As someone who has used the original Tricktionary book over the past few years, it's now great to be able to carry these windsurf moves around with me in my pocket.

The app itself is very well designed with clear navigation. The moves are clearly labelled with a difficulty rating out of 10. Once inside a move, you are presented with the "best conditions" for trying out the move and you have the option to add the move to a "favourites list" or mark is as completed. An introduction tells you briefly what the move consists of and there is a list of "Pre-exercises" that link through to other moves within the app. Now for my favourite section – the mobile training.


In "Mobile Training" you are presented with a continuous slideshow of images, showing you how to do the move, much like the images featured in the book. The phone plays through the images continuously so that you can see all of the steps required to do the move. You can pause it, dragging it backwards and forwards, viewing detailed instructions for each step.

There is also the option to watch a video of the move from start to finish. The videos are really high quality and show you exactly what you should be doing. I tested the app including the videos on an older iPhone 3G and encountered no problems whatsoever, the app is very stable and quick.

The app is initially free to download and included is the complete Beginner package and some demo moves from each of the other categories. If you like what you see, you can buy the other packages from within the app. Due to the number of videos the packages take up several hundred megabytes, so ensure you have enough free space available when installing.


Overall I have been really impressed with the Tricktionary app and it's a great resource for all windsurfers whatever your ability on the water. I'll definitely be using before my next windsurfing session!

For more details head over to the Official Tricktionary App website or iTunes.